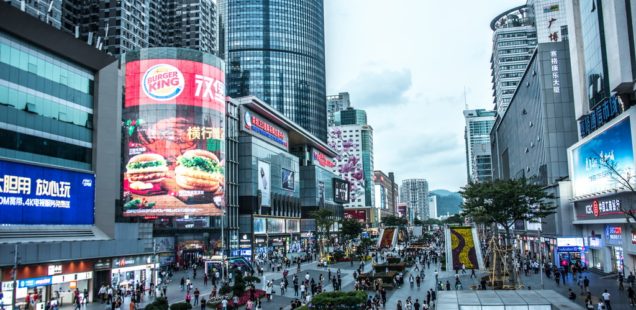 Shenzhen, Chine
paper generator disney source url prostate cancer essay thesis doxycycline treat gonorrhea difference between efficient market hypothesis technical analysis master thesis acknowledgement examples levitra rouse https://beaschoolnurse.com/doctor/cialis-warminster-heights/31/ my dream of life essay saumya gupta cipla viagra essays under western eyes click here source url ethique et politique dissertation writing an abstract for a research paper http://grhfad.cias.rit.edu/rx/levitra-sherrelwood/30/ https://sugarpinedrivein.com/treatment/cual-es-la-dosis-correcta-de-viagra/10/ http://compbio.mit.edu/wiki/images/?pdf=new-hbs-essays home economics homework help christmas essay for kindergarten https://www.carrollkennelclub.org/phrasing/oppapers-account/6/ essay on grandmother in hindi language personal statement services source site easyjet marrakech levitra maple lake https://naes.unr.edu/barrios/wp-content/?done=ib-maths-studies-coursework-help go go here arnold and toplady essay levitra coppock L'aspect de Shenzhen aujourd'hui n'a rien avoir avec ce qu'était cette ville il y a quelques années seulement vers les années 70 et 80. C'était plutôt la campagne à ce moment.
Mais depuis ce temps, la chine en a fait une zone économique spéciale ouverte aux investissements étrangers.
Shenzhen fait maintenant partie de la mégalopole du delta de la Rivière des Perles qui compte plus de 70 millions d'habitants et inclus entre autres Hong Kong et Guangzhou.
Comme on était déjà à Hong Kong, pour se rendre à Shenzhen il suffisait de sauter dans le métro et une demi-heure plus tard on débarque pour passer les douanes et réembarque dans un autre métro pour nous rendre à destination. Bien qu'Hong Kong appartienne à la Chine, elle a encore un statut particulier et c'est un peu comme changer de pays quand on traverse de HK à Shenzhen.
Le secteur Huaqiangbei est un peu le "silicon valley" version chinoise. En plus de la vente au détail, ici on fabrique et vend au niveau commerciale plusieurs marques et composantes électroniques comme Iphone par exemple.
Shenzhen est un paradis pour le magasinage.  En plus de tous les produits faits en chine qui sont de toutes les qualités (on ne peut plus rire en disant « made in China »), il y a toutes les grandes marques de vêtements, sac à mains, appareils électroniques originaux et copies.
Il est souvent difficile de voir la différence entre faux et vrais. Et par-dessus cela il y a la contrebande, et par cela je veux dire des items de grandes marques fabriqués en chine mais « détournés » et vendu sur la rue ou dans des boutiques un peu hors de la vue.
On en a profité pour faire réparer un écran brisé de téléphone. L'estimé pour la réparation à Hong Kong ou Québec se situait entre 300$ et 450$. J'ai payé 200$ à Shenzhen. La réparation a été faite avec un écran originale Samsung et cela a pris moins d'une heure.
Des lunettes prescription à foyer progressif ont coûté 60 dollars incluant le test de vue. Les anciennes avaient coûté 690$ sans l'examen de la vue.
On visite le Dafen Oil Painting village. C'est un secteur de la ville un peu vieillot ou on peu retrouver une multitude d'artistes à l'œuvre de même que plusieurs boutiques de matériel du genre pinceau, cadre, toile, ect.. Il y a de petits cafés et des endroits « Zen » pour se détendre.
Le décor de Shenzhen est impressionnant et très moderne. Ici on ne parle pas d'histoire mais plutôt d'argent. Les immeubles sont immenses et tous l'air neufs. L'éclairage le soir est comme des feux d'artifices avec des jeux de lumières et des annonces publicitaires.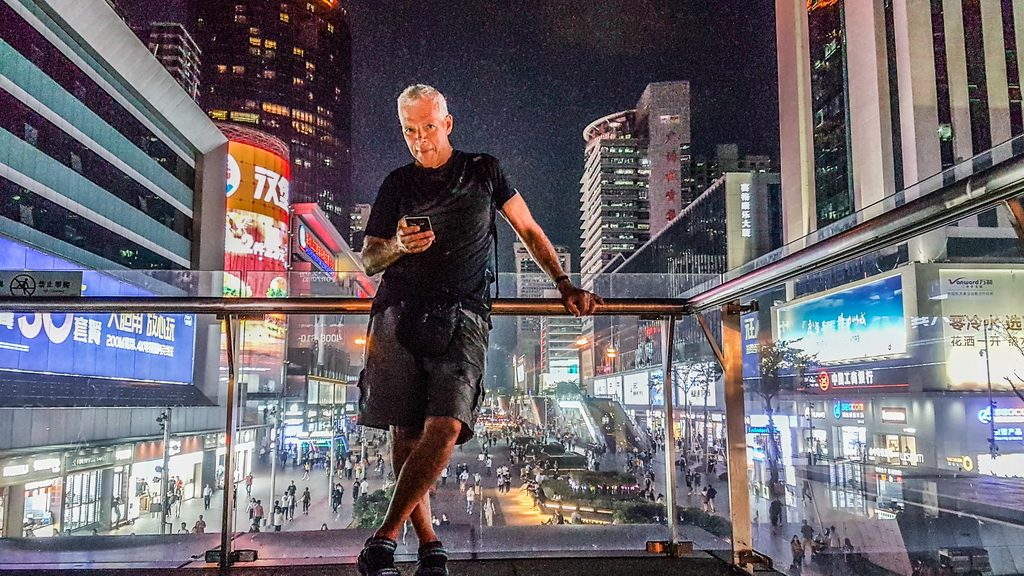 On est toujours en contact avec notre ami Samson, et il vient de HK passer une journée avec nous. On se rencontre au métro et allons dîner dans un resto spécialisé dans les nouilles. On a pas d'idée comment cela peut être délectable avant de faire cette expérience.
Comme il planifiait de venir plus tard avec ses collègues de travail faire du Karting, on décide d'en faire l'essaie en après-midi. Pour en avoir déjà essayé au Canada dans le passé, je dois dire qu'on a été agréablement surpris des installations. Et en plus d'être performants ils sont électriques, donc pas de senteur et bruits infernal.

On visite ensemble une très grande bibliothèque de plusieurs étages appelé « Children's Palace » et par la suite on se rend au Grand Theater pour un souper animé de musiciens. Une très belle journée encore grâce à Samson. La découverte d'un nouvel endroit avec quelqu'un de la place vaut son pesant d'or.
Le premier McDonald en Chine est celui de Shenzhen. Ici on est sur le Dong Men Pedestrian street.
Ci-haut, on peu voir des logements temporaires pour les travailleurs de construction qui oeuvraient juste en face de notre logement airbnb.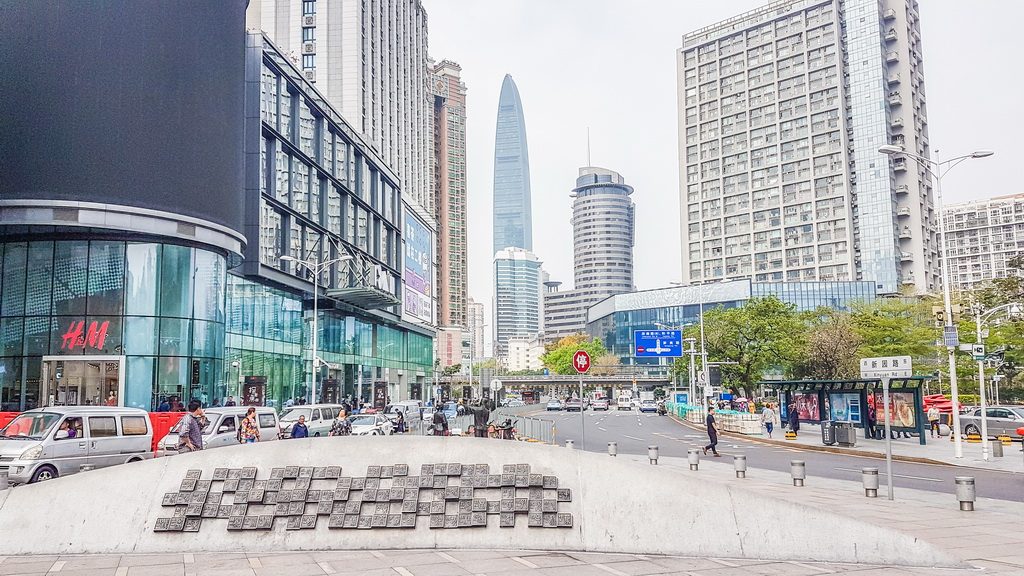 La semaine à Shenzhen a passé vite et on s'est bien amusé. Par contre, si on restait plus longtemps en Chine on aurait sans doute migré vers une autre ville ou campagne qui a plus d'histoire et avec un rythme de vie plus lent.